---
---
United SportsCar Racing
To Debut In 2014
Organization Brings Together GRAND-AM, ALMS

IMSA Retained As Sanctioning Body

2014 Class Names Announced
With uniqueness and modernity at the forefront, the new United SportsCar Racing platform was revealed (#TheReveal) today at Sebring International Raceway, resulting from the merger of GRAND-AM Road Racing and the American Le Mans Series presented by Tequila Patrón.
United SportsCar Racing will debut in 2014 with the season-opening Rolex 24 At Daytona.
"The new name says it all," said GRAND-AM President and CEO Ed Bennett. "In only six months since we announced the merger, GRAND-AM and the ALMS have taken huge strides to become one organization that will redefine sports car racing in North America. United SportsCar Racing reflects the fundamental spirit of how we are working together toward a common goal."
Today's announcement culminates a four-month project that involved New York-based SME Branding, one of the nation's leading agencies with a client list that includes the NFL, NHL, UFC, the New York Yankees, Kentucky Derby, Madison Square Garden and NASCAR. SME conducted stakeholder research as well as fan input to develop the series' name, logo and brand identity. The selection of United SportsCar Racing was derived from a submission by Cocoa, Fla.'s Louis Satterlee in GRAND-AM's "Name The Future" fan contest. The logo, with its race helmet-like imagery, was developed to be an icon with a modern feel, representing a part of motorsports that is immediately recognizable. Full Story >>>
---
Chevrolet™ Continues as "Official Truck" and "Official Pace Car" of Road Atlanta
Road Atlanta and Chevrolet announced an extension of their partnership today with Chevrolet remaining as the "Official Truck" and the "Official Pace Car" of the scenic 2.5 mile 12-turn road course, through the end of 2013.
"We are extremely pleased to continue our partnership with Chevrolet," said Geoff Lee, President of Road Atlanta. "Chevrolet has a storied history of motorsports success and, similarly, Road Atlanta is recognized as one of the world's best road racing courses. It's a perfect match of two iconic racing brands. Full Story >>>
---

---
Road Atlanta Voted One of America's Best Road Courses by Car and Driver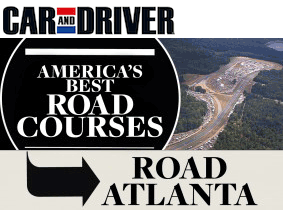 Car and Driver picked 6 road racing courses around the US that they say, "generally date back to a time when racetracks were supposed to have elevation changes, blind corners, and distinct personalities." And, "In the good old days, danger was an accepted part of the deal, and we think a scintilla of fear makes for a more challenging competition venue." That's right, Road Atlanta was one of them!
---