Details

Category: Road Atlanta
Published: Wednesday, April 16 2014 08:55
Steve McQueen, Paul Newman, Dick Smothers… just a few entertainers who became pretty darn good race car drivers.
Enter Patrick Dempsey.
Dempsey is one of today's top television and film actors and stars in ABC's Grey's Anatomy in addition to popular films such as Can't Buy Me Love, Enchanted, Made of Honor and the upcoming Flypaper and Transformers: Dark of the Moon.
A lead driver and owner of Dempsey Racing, he is in his fourth full season of GRAND-AM Rolex Sports Car Series GT class competition in a Mazda RX-8 GT. He co-drives with teammate and Dempsey Racing business partner Joe Foster, and the two have been racing together for seven years after first meeting when Foster was Dempsey's racing school series instructor.
Dempsey has now set his sights on Le Mans, and the first step is fielding an LMP2 in selected American Le Mans Series races, including the Petit Le Mans on October 20th. His #27 Lola Judd has already showed promising results.
Other actors and celebrities have tried racing but only a select few have succeeded and earned the respect of their peers. Paul Newman had a stellar career, especially here at Road Atlanta where he won several championships in the SCCA runoffs. Smothers, of the famed and controversial Smothers Brothers Show, won twice at Sebring and also had some success in open wheel racing.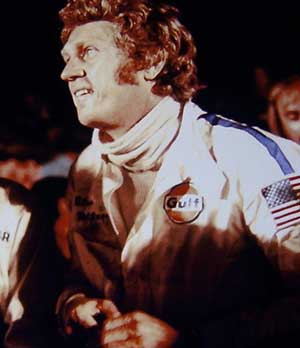 McQueen, of course, is legend. The movie "Le Mans" cemented his place in racing history, but McQueen was an accomplished road racing driver and short-track motorcycle racer. His second place finish at the 1970 Sebring 12
Hours is considered one of the greatest drives ever. While his co-driver Peter Revson did most of work, McQueen drove with a cast on his broken ankle, and still managed to nearly pull-off one of the greatest upsets ever, finishing only 22 second behind Mario Andretti's Ferrari.
James Brolin, Bobby Carradine, Gene Hackman, James Garner, Lorenzo Lamas, Craig T. Nelson and Jason Priestley are just a few of many celebrities who have dabbled in racing as a driver or car owner, usually with limited success.
For Dempsey, the upcoming Petit Le Mans powered by Mazda will be another step toward achieving his goal.
Written by: Ken Breslauer