IMSA Continental Tire SportsCar Challenge Sets 12-Race Schedule
For 2014
Details

Published: Sunday, October 13 2013 11:24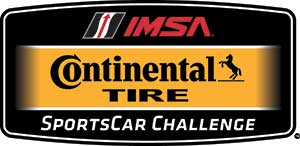 IMSA Expanding Calendar With Increase Of Two Continental Tire Challenge Events
New Logo For Continental Tire SportsCar Challenge Unveiled

DAYTONA BEACH, Florida. (Oct. 11, 2013) – Expanding the sports car calendar to encompass more road racing circuits and serve more fans throughout the United States, the International Motor Sports Association (IMSA) today announced a 12-event schedule for its premier development series, the production-based Continental Tire SportsCar Challenge.
The 12-event lineup will be an increase of two events from this season. The 2014 season will begin with the annual opening race at Daytona International Speedway on Jan. 24, running as a companion event to the 52nd Rolex 24 At Daytona set for Jan. 25-26. The Rolex 24 will be the first race for the new TUDOR United SportsCar Championship.
The Continental Tire Challenge will join the TUDOR Championship at 10 events in 2014. It will also be featured at two other events – Lime Rock Park on May 24 and Kansas Speedway on June 7.
New to the series' schedule in 2014 is an event at Sebring International Raceway on March 14. The Continental Tire Challenge will return to Canadian Tire Motorsport Park for the first time since 2008 on July 12, and to Virginia International Raceway after a two-year absence on Aug. 23.
Mazda Raceway Laguna Seca (May 3), Watkins Glen International (June 28), Indianapolis Motor Speedway (July 25), Road America (Aug. 9), Circuit of The Americas (Sept. 20) and Road Atlanta (Oct. 3), join Daytona, Lime Rock and Kansas as venues that hosted the series in 2013.
"The Continental Tire SportsCar Challenge delivers some of the best GT racing you can find anywhere, any season," said IMSA CEO Ed Bennett. "Combined with IMSA's other development series, we are able to expand our scope, in some cases providing circuits and fans outstanding competition at special events. On other weekends, the Continental Tire Challenge serves as a premium complement to the TUDOR United SportsCar Championship."
Official preseason test sessions for the Continental Tire Challenge will be held at Daytona International Speedway as part of the annual Roar Before the Rolex 24 on Jan. 3-5.
In addition to unveiling the 2014 schedule, IMSA also introduced a new logo for the long-running series. The logo incorporates new branding from Continental Tire and the addition of the IMSA logo in recognition of the new organization assuming sanctioning for the series.
"The new, modernized Continental Tire SportsCar Challenge logo brings an exciting fresh look to this tremendous series," said IMSA Vice President, Marketing, David Pettit. "We placed considerable focus on updating the identity of the Continental Tire Challenge and believe we have something that is attractive and fits well within the brand guidelines we've established for all IMSA-sanctioned series."
The Continental Tire SportsCar Challenge is a door-to-door showcase for the latest in international and American-made high performance sports cars, coupes and sedans straight from the dealer showroom floor, with major modifications permitted only in the areas of safety and competition. The Continental Tire Challenge consists of two classes – Grand Sport (GS) and the smaller Street Tuner (ST) class. All classes run on Continental Tires, with large fields the norm.
2014 Continental Tire SportsCar Challenge Schedule


Jan 24 Daytona International Speedway
Mar 14 Sebring International Raceway
May 3 Mazda Raceway Laguna Seca
May 24 Lime Rock Park
Jun 7 Kansas Speedway
Jun 28 Watkins Glen International
Jul 12 Canadian Tire Motorsport Park
Jul 25 Indianapolis Motor Speedway
Aug 9 Road America
Aug 23 Virginia International Raceway
Sep 20 Circuit of The Americas
Oct 3 Road Atlanta
About IMSA
Beginning in 2014, and headquartered at the International Motorsports Center in Daytona Beach, Florida, the new International Motor Sports Association, LLC (IMSA) will be the sanctioning body of the TUDOR United SportsCar Championship – the highly anticipated road-racing series resulting from the merger of the American Le Mans Series presented by Tequila Patrón and the GRAND-AM Rolex Sports Car Series – as well as two development series: the Continental Tire SportsCar Challenge and the Cooper Tires Prototype Lites powered by Mazda. In addition, IMSA also plans to continue sanctioning the following single-make series: Ferrari Challenge, Porsche GT3 Cup Challenge by Yokohama, Ultra 94 Porsche GT3 Cup Challenge Canada by Michelin and Lamborghini Super Trofeo. IMSA is the exclusive strategic partner in North America with the Automobile Club de l'Ouest (ACO) which operates the 24 Hours of Le Mans as a part of the FIA World Endurance Championship. The partnership enables selected TUDOR United SportsCar Championship competitors to earn automatic entries into the prestigious 24 Hours of Le Mans.
About Continental Tire the Americas
Based in Fort Mill, S.C., Continental Tire the Americas, LLC manufactures and distributes a complete premium line of passenger, light truck and commercial tires for original equipment and replacement markets. Our ultra-high performance tires include award-winning technologies that focus on safety, help save money and reduce CO2 emissions. The ProContact EcoPlus and CrossContact LX20 were also awarded a Consumer's Digest Best Buy award in 2012. Continental's premium products are available at leading independent tire dealers, car dealers, and mass retail companies across North America. Continental Tire is a proud supporter of the GRAND-AM Road Racing Series, ALMS, Major League Soccer (MLS), West Coast Customs, the Las Vegas Invitational and Las Vegas Classic, Wendy's 3 Tour Challenge, Chris Rado, Lingenfelter Performance Engineering, NSCAA, Petty's Garage, UNC Athletics, and Duke Athletics.