What's My Line? A Day In the Life at the Track
Details

Published: Wednesday, October 02 2013 13:43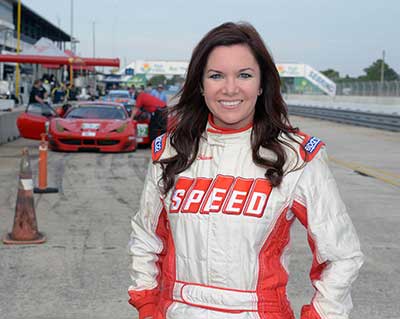 "I spend the Petit Le Mans powered by Mazda working in stints. It's a full day of wearing a hotfiresuit. I get constant direction on my performance and those around me through an earpiece. My only line of communication is through a microphone. Millions are watching me do my job through their television screen. If I mess up, the world is going to know it within seconds. I've spent a decade fine-tuning my skill to be on top of my game at this very moment. Every decision I make takes into account hundreds of variables and I must make the right move the first time or risk never getting another shot. With any luck, at the end of 10 hours, I'll stand in victory lane and be covered in celebratory champagne. What's my line?"
If you were on the panel of the golden age of television game show, "What's My Line", you might guess Jamie Howe was describing herself as a racecar driver. But, you would be wrong. Many of the same criteria that make up the daily description of a driver also outline the Braselton, Ga.-resident's job as a pit lane reporter for FOX Sports.
Jamie Howe gives a behind-the-scenes look at what it takes to be an American Le Mans Series pit reporter for FOX Sports 2 at the 16th Annual Petit Le Mans.
The work I do for the race weekend really starts weeks in advance, especially for an event like Petit Le Mans. With it being an endurance race, I have to break myself of the habits of driver pairings, car models, sponsors, team names, etc. Things change for big events, especially when championships are at stake, and keeping up with it all can be tough.. I keep a notebook throughout the season that I make notes in as changes occur, so that way when I am making my event notebook for Petit, my home race, there aren't too many big surprises. Sports car fans are so diehard that they certainly know the changes and I find myself keeping up with them a lot of times.
My notebook is something that is quite personal. I have gone through many different formats and even tried it on my iPad for a season. But I learned that when I write down a note I often times don't have to look at it again as the act of writing commits it to my memory. I have finally settled on my format and I create a new notebook for each event I cover. And yes, I keep them all.
Covering sports car racing is quite different from a pit reporter perspective for a couple of reasons. Unlike many forms of racing, we are permitted on the "hot pit," meaning we are where the cars are, not behind the wall. I literally cannot be any closer to the action on pit lane. So from a preparation standpoint, I need to be ready to tell the people at home what is happening. That means for every car in the field, I should know what each of the reservoirs, ventilation holes, knobs and screws control so that when a car comes in I can tell you what's happening. When I know a pit stop is about to happen my heart rate increases and I get butterflies in my stomach. Those are the moments I wait for. Being able to share the story of the race with the fans watching is why I do this. Another difference in sports car racing is the fact that there are multiple drivers per entry. So when one driver is in I need to be ready to interview the other whoever that is. Interviewing people is hands down my favorite aspect of my job. I love being able to help people share a story. I spend about 70% of each race weekend talking to drivers, team managers, engineers, etc. The conversations before the race are crucial to the coverage of the race. The more I learn, the more fluid the story is and the more people can understand at home.
The remaining 30% of the weekend is spent in "production". Defined simply, "production" is the time spent getting everyone on the TV crew on the same page for the race broadcast. We have a production meeting at the beginning of each day and sometimes at the end as well. All of the announcers sit with the producer, pit producer, director and graphics coordinator to make sure we are all on the same page with storylines and to discuss anything we want or need to shoot. We always split pit lane between the reporters so that we can focus our attention on half of it and not try to know everything going on up-and-down pit lane. As the season progressed we switched teams each weekend so that we get to cover everyone. That helps when we get to the final race weekend of the year.
During the first or second practice session we all take our positions and try out all of our equipment. One thing that still amazes me each weekend is how efficient our technical crew is at getting our communications equipment up and running. It is all unpacked, set up, used for the weekend, then torn apart and put back into the truck for the next time. We have engineers who come every weekend to get us going and without them, I am not sure what we would do.
My "pack" has changed recently to allow me to not use a headset with an antenna anymore. I now use molded earbuds that are wired into my belt pack. The same company that makes the drivers' earplugs in their helmets makes them for us. Everything is fed over radio frequencies, making it an "RF Pack". The technology in them is pretty amazing now when you consider that I am completely mobile without any wires. I can easily talk to the commentators in the booth who are often on the other side of the track but more important, I talk to the people at home with the switch of a button.
One of the biggest challenges of being a pit reporter for a live broadcast is getting used to all of the "noise" in my ears all the time and I usually don't actually hear car noise! In my right ear I hear the actual program that you hear at home. That is me talking, the booth talking, music, features, and whatever natural audio the cameras pick up, all just as you would hear it. In my left ear, I hear that as well. But I also hear the producer when he is talking or the pit producer when she is talking. That alone is a lot of constant noise. But I also scan team radios during the race. That is something that has taken practice and patience. In many race broadcasts there are other people who listen to the radios, but not here. During a race like Petit, I will listen-in most of the race. So then that goes into my right ear.
Also on my pack is my microphone control. The production truck makes the decision on when I am able to go on air or not, but it will not work unless I actually turn the mic on. I also have a switch to talk to the producers. We have a very open conversation throughout the entire race to keep us thinking. Pit lane can be pretty quiet at times during endurance races and the conversation keeps my mind going.
One of the most important parts of being a pit reporter is being a good listener. I have to listen to the guys in the booth and not only match their energy level but continue with their story. We are all a team and we always say that we are just a bunch of friends sitting on a couch watching a race. That's the conversation we try to have. When something happens on pit lane to change the race, they go with it. Just as I go with something they call happening on the track. We are all working to tell the same stories.
When the race is over and the winners are taken to the podium there is such a sense of excitement in the air that it is contagious. There have been times when drivers have climbed out of the car victorious and started sobbing with joy at their team accomplished, being there to see that and help share that with viewers at home is irreplaceable. The same goes for the disappointment teams feel when they don't win or perform well. That's the sport in it. That's what keeps people coming back. When Petit Le Mans is over, the season is over.I'll leave the track exhausted but I hope satisfied. Then it's a quick drive to my house, which is a great way to end a year!