Details

Category: Motul Petit Le Mans
Created: Sunday, January 31 2016 11:20

31

Jan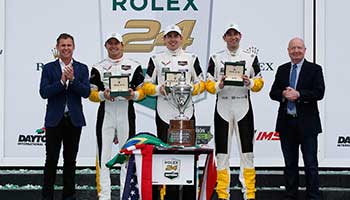 Gavin Edges Garcia To Win GTLM By Only 0.034 Seconds
For Corvette Racing, the question entering the 54th Rolex 24 At Daytona was simple: How do you top 2015?
Last year, the team's pair of Corvette C7.Rs won the Rolex 24, Mobil 1 Twelve Hours of Sebring Fueled by Fresh From Florida in the GT Le Mans (GTLM) class and then the team won the 24 Hours of Le Mans.
The answer was delivered Sunday in an epic 1-2 finish, with the 2015 Le Mans-winning No. 4 Corvette C7.R of Oliver Gavin edging the 2015 Daytona and Sebring-winning No. 3 Corvette C7.R of Antonio Garcia to the line by 0.034 seconds, the closest class finish in the history of the Rolex 24.