Details

Category: GRAND-AM
Published on Thursday, March 28 2013 16:08
Race fans will get their first look at Daytona Prototypes (DP) competing on the famous Road Atlanta circuit April 19-20. The DP category has attracted the attention of superstar drivers and leading teams through its extremely raceable and relatively affordable format. With its intelligent design, the class has revolutionized sports car racing with plentiful battles at the front of the field and close finishes in virtually every race.
The DPs are the premier class of the GRAND-AM Rolex Sports Car Series. These are exotic, mid-engine machines that are purpose-built for competition. They are low to the ground and are capable of speeds in excess of 195 mph. They also feature the latest in safety technology, including carbon-fiber side-impact panels and a multi-point roll cage.
In 2014, DPs will be in the headline "prototype" class in the United SportsCar Racing Series, joining the LMP2 cars currently running in the ALMS.

The DP class was introduced on the eve of the 2002 Rolex 24 at Daytona, and debuted at that event one year later.
After five years with only minor rule changes, DP constructors were allowed to update their designs or transfer their licenses for the 2008 season, ensuring the stability of the class. Lola (which purchased the Multimatic franchise), Dallara (Doran) and Coyote (Fabcar) purchased existing licenses and debuted cars, while Riley and Crawford presented updated versions.
Rule changes for the 2011 season included the use of the Assisted Gearshift System (AGS or paddle shift) transmissions for cars piloted by Pro-Am drivers, and changes in the size of the specified sideplates on the rear wings.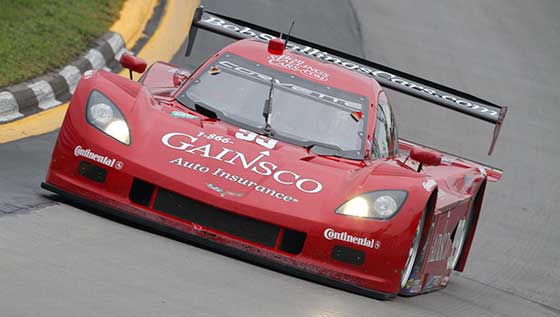 The 2012 season saw the introduction of the next generation of Daytona Prototypes, with revisions including a smaller driver compartment and OEM-branded DPs, such as the new Chevrolet Corvette Daytona Prototype. Turbocharged engines are expected in the near future.
Although each chassis is designed and manufactured independently, competitor modifications are highly limited by GRAND-AM rules. Certain parts, including series-standard rear wings, are mandated by the series. A DP chassis costs about $400,000, but the cars can be raced in their current configuration for several years within GRAND-AM's stable rules package. For instance, the original Riley chassis that debuted in 2004 continued to race competitively with updates in the Rolex Series - winning two races in 2008 - while Brumos Racing won two races in 2009 with the original version of the Riley chassis.
Manufacturers are welcome to submit any production-based engine for approval in the series. Engines that are approved for competition include power plants from Chevrolet (5-liter V-8), BMW (5-liter V-8), Porsche (4-liter flat six and 5-liter V-8) and Ford (5-liter V-8). All engines are tuned to produce about 500 horsepower and each is capable of being mated to any of the approved DP chassis, which creates an interesting variety of chassis/engine combinations. DPs utilizing engines under 4.5 liters are allowed the advantage of the six-speed gearboxes, while all race cars with larger engines must run five speeds.
In addition to official and approved chassis designs and engines tuned to GRAND-AM specifications, DP competition is equalized further through minimum car weight. DPs with smaller engines can run at lighter minimum weights than their counterparts with more power. Cars fitted with engines less than 4 liters can weigh 2,200 pounds or more. DPs running engines 4 liters and up to the maximum 5 liters must weigh in at a minimum 2,250 pounds.
Here is a brief summary of DP specs:
Top Speed: 195 mph
Horsepower: 500
Wheelbase: 108-110 inches
Weight (min.): 2225-2275 pounds
Roof Height (min): 41 inches (measured from flat floor reference plane)
Wing Height (max): 41 inches (measured from flat floor reference plane)
Width (max.): 79 inches
Engines: 5.0L V-8; Porsche, Ford, BMW, Chevrolet 4L Flat 6
Gearbox: Six-speed sequential shift (five-speed for 5.0L V-8); AGS allowed for cars with Pro Am drivers
Tires: Continental
Chassis: Steel tube integrated roll cage
Suspension: Pushrod with multilink
Traction Control: Not permitted